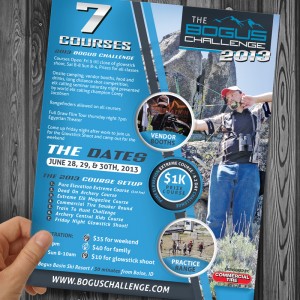 Do you shoot a bow and enjoy going to local archery tournaments? If you answered yes, then the Bogus Basin 3D shoot is one shoot you won't want to miss! Here at Apex Advertising we have been working with the team putting on the Bogus Basin 3D Archery Tournament in the end of June, 2013. We just created a the archery event flyer to help promote this shoot.
There will be 7 different courses at this years shoot:
• Pure Elevation Extreme Course ($10 Fee)
• Dead On Archery Course
• Extreme Elk Magazine Course
• Commercial Tire Smoker Round
• Train To Hunt Challenge
• Archery Central Kids Course
• Friday Night Glowstick Shoot!
If you're looking for outdoor, hunting, or archery related flyer design, we have you covered. We're looking forward to seeing you at this years Bogus Basin 3D shoot! To get started with a FREE quote simply fill out the form to the right, and we'll be in touch with you before you know it.
Posted by Apex Advertising / Posted on 29 May