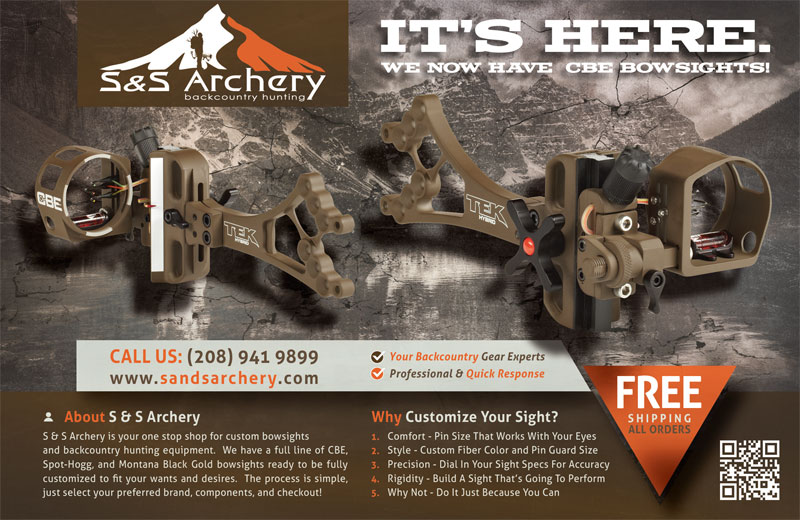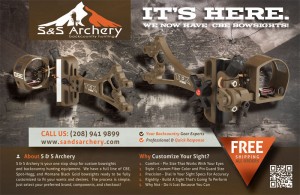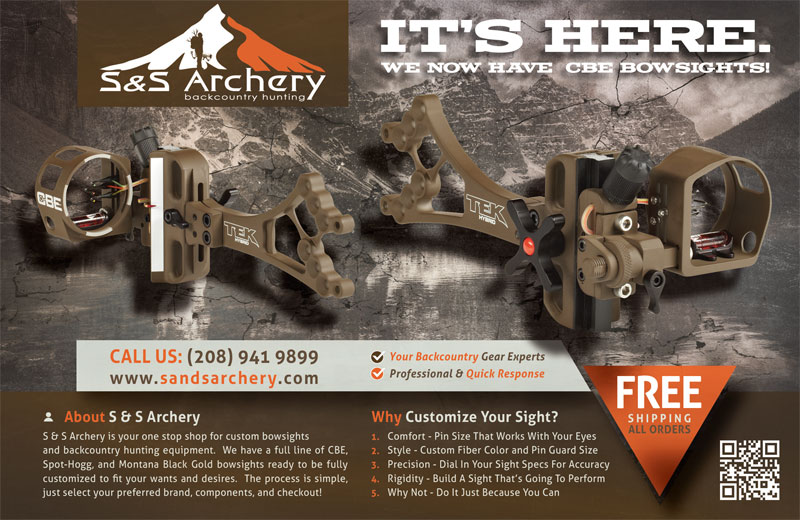 Here at Apex we just finished up another hunting magazine ad design for S and S Archery out of Idaho. S and S Archery teamed up with Custom Bowsight Equipment and will now be offering a full line of CBE Bowsights. S and S Archery has a one of a kind fully customizable bowsight shop allowing individuals to tailor their new sight to the exact specs and desires of their choice. Starting with the manufacturer, then selecting the pin guard size of your choice, fiber optic size, and color options if available. Then all you have to do is checkout and your new sight will be in the mail before you know it! If you're looking to truly customize your new sight, S and S Archery is your answer.
S and S Archery wanted a new hunting ad design showcasing the new line of CBE Bowsights for the next issue of Extreme Elk Magazine. Featuring the new TEK-HYBRID CBE Bowsight, we really wanted the sight to stand out and be the main focal point of the ad. Although we wanted the new sight to be the main focal point, we also wanted to hit on all of the main points on why to use S and S Archery purchasing your new bowsight. With 5 strong bullet points on why to customize your bowsight, along with a quick synopsis on S and S Archery, we felt like this ad really hit the mark. S and S Archery also offers free shipping on all of their products so we wanted to be sure to highlight that as well, as that is another incentive to get customers to purchase from S and S Archery. The new CBE hunting and archery ad design will be featured in the spring issue of Extreme Elk Magazine. Keep an eye out for it!
To get started on your new hunting ad design simply fill out the form to the right and hit that big orange submit button. Or, if you want to provide us with a little more detailed information, use our contact form here.
Posted by Apex Advertising / Posted on 13 Feb
design, hunting, hunting advertising, Hunting Graphic Design, Magazine Ad