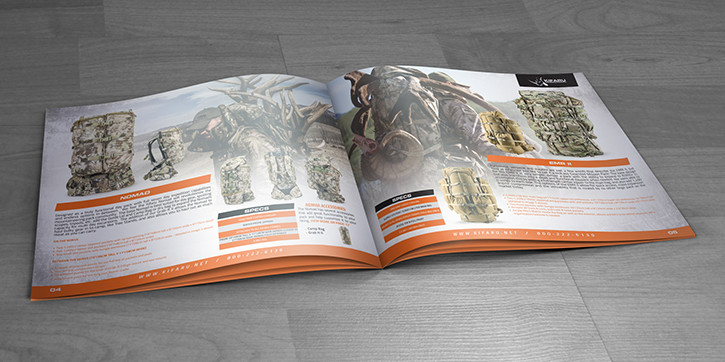 Kifaru International contacted us this past fall to design a new catalog for their hunting backpack and outdoor gear lines.  Specializing primarily in the hunting industry, but also encompassing lines like military and special ops, we wanted to the catalog to be focused around high-res, impactful photos that explain the lifestyle and feel established with their brand.  Kifaru designs high-end quality backpacks.  These aren't your every day production line run packs.  Custom built to you; your needs.
Keeping the outdoor hunting catalog in mind, we wanted to give it a modern with a rich feel, yet not stray to far from the rugged aspect.  Using grunge texturing on the page backgrounds with a bright orange to tie in the hunting aspect and branding established by Kifaru already, we feel we hit the mark on this catalog and they do as well.  Keep an eye out for upcoming catalogs for Kifaru here in the future that we are working on.
Looking for a an outdoor hunting catalog or brochure to promote your business?  Get in touch with us today for a free quote.
Posted by Apex Advertising / Posted on 04 Mar
Hunting Catalog Design, Kifaru International, Outdoor Design